Holsworthy's Honey signs for Plymouth Albion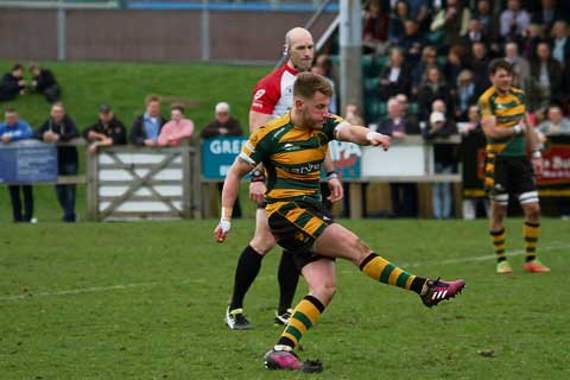 Honey kicking a penalty during their National?League Two?(South) clash with Redingensians Rams on Saturday, April 7. Picture: Shawn Pearce Photography
Subscribe newsletter
Subscribe to our email and get updates right in your inbox.
NEW Plymouth Albion fly-half, Fraser Honey, admits that he 'can't wait to show everyone what he can do' after joining the Brickfields club from National League Two (South) side Bury St Edmunds.
The 21-year-old from Holsworthy has returned to the South West after kicking 170 points and scoring two tries in his solitary season in Suffolk, which saw the club finish eighth in the table with 14 wins and 16 losses from their 30 games.
However, having previously stated his determination to make a career out of the game, the former Cornish All Blacks man is ready for the next chapter in Devon.
He said: "Me and my agent began talks with Albion just after Christmas. I had a few other opportunities but when I spoke to my agent we were in agreement that this was the right move. If I went to a Championship club I could be holding a bag a lot of the time. I'd rather take small steps forward than take big ones and end up going backwards.
"If I didn't have a destination I want to get to I would have stayed, but it was always my plan to go up there for a year, establish myself and move on."
The man in charge at Brickfields is former Cornish Pirates fly-half Kieran Hallett, and Honey admits that his presence was a big factor.
He said: "The chance to work with Kieran, who was a great ten in his own right, meant I felt like it'd be the best place to continue my development.
"This will be the first season where I've got really tough competition. The more competition you have, the more you to strive to push yourself to play ahead of the others.
"But I just want to get down there, impress the other players as well as the coaches and supporters and to try and stamp my mark on the club and get in the team.
"One of the main things I've learned this year is that you want to be playing at an ambitious club, as even though we finished eighth, Bury St Edmunds do everything right and I had Ollie and Kevin to learn off. Albion will be striving to get back into the Championship and I wanted to be a big part of that."
While the importance of choosing the right club is clearly at the forefront of Honey's mind, he admits that being around his family played a key part.
He added: "Obviously being able to come back down here is a big factor. As much as it's been nice to move away, the chance to be able to come home and live is great.
"I've only been back for a couple of weeks but to be able to spend time with friends and family has been lovely. At the moment I'm planning on commuting down to Plymouth every day."
While the journey from Holsworthy to Plymouth takes well over an hour, Honey looks back on his time at Bury St Edmunds with fondness.
He said: "It was very enjoyable to live away and the rugby was great. It was about rugby 24/7 for me and I got to work under Ollie Smith, who's a former British and Irish Lion and England international and Kevin Maggs, who made over 70 caps for Ireland.
"It was really beneficial playing under those two. They have a wealth of experience, which has really helped my game!"
Although Bury St Edmunds aren't a professional club, Honey lived like a pro, training on Mondays, Tuesdays and Thursdays as well as having a game on a Saturday, and he admits that playing in front of crowds of 600 or more and a more demanding environment was crucial for his development, which was proved by the fact he picked up the club's Player of the Y­ear award.
He said: "At the end of the season when we played the better teams such as Cinderford, a better atmosphere helps you and gives you that boost you need.
"Personally I feel that I had a really good season and now I've got good form behind me.
"I took on a lot of responsibility. I took charge of the attacks and did a lot of analysis on and off the field. Doing all of that studying has really helped and made sure I got it right.
"Playing wise I feel that my all-round game has improved. My kicking was pretty deadly and I've improved my running game.
"I was told to attack the line and engage the defence by Kevin and Ollie as the more you do that, the more the gaps appear."
Honey is pleased with his tally for the season and believes that he's now ready for the rigours of National League One.
He said: "170 points for the season kicking is pretty good going and I was one of the most accurate kickers in the league."
Honey admits that his experience of National League Two South back in 2015/16 as a teenager helped him.
He said: "My first season at Launceston was a real eye-opener but it gave me an idea as to know what to expect.
"The difference as well was that I had two years' development at Launceston, but I now feel pretty established at this standard and I feel ready and capable to move up to National League One but I owe a lot to Bury. When I first turned up they were very welcoming to me and they're the reason I'm moving on.
"But I can't wait to get stuck in at Albion and show everyone what I can do."
Honey, who represented England Counties Under 20s last year, made his competitive Cornwall debut on Saturday, May 5 in the 15-15 draw with Surrey before being given his first start against old rivals Devon at Camborne.
However he went off injured in the first-half as the Black and Gold fell to their first pool stage defeat (20-17) in the Bill Beaumont County Championship since 2012, a result which meant their aim of reaching a sixth consecutive final appearance at Twickenham eluded them.
Honey said: "It was a great feeling to finally pull on the jersey although it was a tad disappointing with the last two results.
"However Cornwall are going through a transition at the moment which all teams go through, so I'm sure we'll be back next year."
Comments
To leave a comment you need to create an account. |
All comments 0