Author aims to spread ocean plastic message to 40,000 children through her series of books
Thursday 3rd January 2019 10:30 am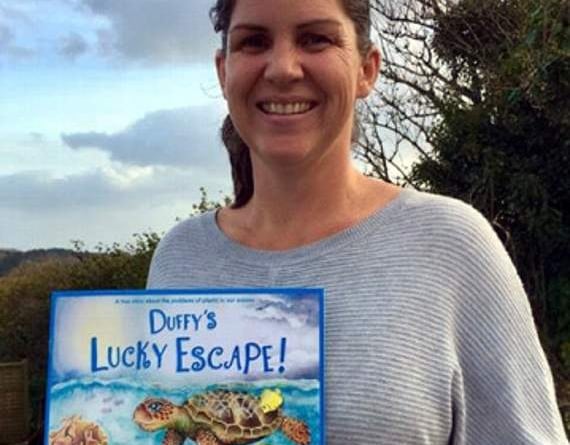 Ellie Jackson with her first book, Duffy's Lucky Escape.
Subscribe newsletter
Subscribe to our email and get updates right in your inbox.
CORNISH-based environmental children's author Ellie Jackson is aiming to reach 40,000 children across Cornwall with her Wild Tribe Heroes book series on ocean plastics.
Ellie recently launched Nelson's Dangerous Dive, the third book in her true book series about a curious whale who gets tangled in ghost fishing gear. After some incredibly brave human intervention, Nelson thanks his rescuers in the most beautiful way.
The launch took place at The Book Shop Liskeard, where Ellie also launched her very first book, Duffy's Lucky Escape. The new owner of the Book Shop Liskeard, Jackie, said: "It is important to us to support local authors as well as helping share the message of ocean plastics in such a positive way."
The books are beautifully illustrated, gentle and positive stories aimed at primary and preschool aged children, teaching them about the problem of ocean plastics and inspiring them to help.
Each book follows the true story of a well-loved animal as they encounter ocean plastic and how, through the help of people, the animals are rescued, rehabilitated and released back to their home.
Ellie, an Ardent Environmental campaigner, who is one of the community leads in the Surfers Against Sewage Plastic Free Liskeard and Plastic Free Looe campaigns, said: "In the year since Duffy was launched, I have had an overwhelming response to the books from teachers, parents, children and businesses. These books are more than just picture books, they are the inspiration a whole community needs to take action and make a difference in tackling ocean plastics."
Children around the UK are now using the books as inspiration to take action in the form of organising their own beach cleans or litter picks, writing to government and local businesses asking them to consider their use of single use plastic such as straws, setting up recycling at school and at home and also working towards becoming eco-schools and plastic free schools.
By ensuring all schools in a region are working on the books at the same time, there is a huge potential for a change in attitudes in the communities as between all of those children they will have links to almost every business and can inspire real change in these business owners.
Ellie has also received personal letters of support from Sir David Attenborough and Prince Charles.
She said: "The important thing is that the book reaches children and makes a difference. This is about protecting our oceans for all creatures, including future generations of humans.
"By using engaging stories with fantastic illustrations by gifted artists like Launceston-based Laura Callwood, we're able to connect with children of all ages. It's my view that projects like this can have a real impact by engaging whole communities with the issue and inspiring them to make the changes our environment so desperately needs."
Ellie was shortlisted as a finalist in the recent Cornwall Sustainability Awards, and said: "I was incredibly proud to be a finalist in this year's awards.
"There are so many individuals and businesses in Cornwall doing such great work in helping our environment, that it is a real inspiration to me to see just how passionate people can be in making a difference."
The books have reached almost 500,000 children around the UK so far and based on the success of the books into schools project elsewhere, she is setting up a Crowdfunder to reach every primary school across Cornwall. With businesses, organisations, local councils and individuals all supporting the project, the books can be into all 270 primary schools in Cornwall by Christmas.
Each school receives an education pack consisting of three books and teaching resources, together with promotional material from business sponsors.
Ellie has been overwhelmed by the community support around the country and said: "To have the support of local businesses to sponsor so many of their local schools has been wonderful — by education young people, we're safeguarding the future, and raising a more enlightened generation."
Ellie is asking for the whole community to support her social enterprise Crowdfunder to ensure all of the children in Cornwall are learning about these issues at the same time.
She would also like to see businesses and individuals supporting the children's efforts by making small changes, which collectively make a big difference to the environment.
Comments
To leave a comment you need to create an account. |
All comments 0