Company will provide mental health and wellbeing support
Saturday 6th August 2022 4:00 pm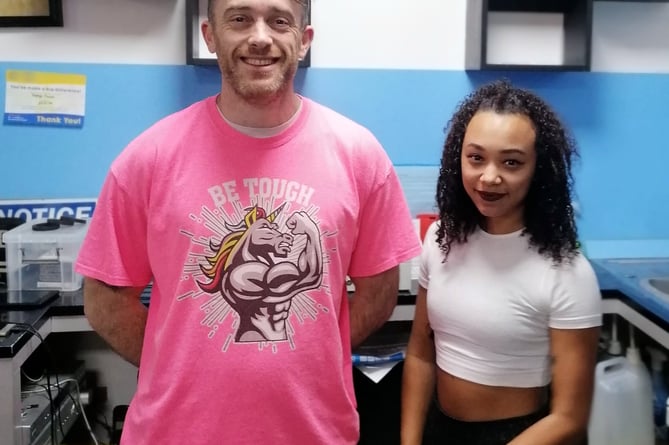 Matthew Welch from Prestige Fitness, based in Perranporth, is already helping to support a member of staff
()
Subscribe newsletter
Subscribe to our email and get updates right in your inbox.
With mental health awareness growing across the country, Launceston-based business Continal Underfloor Heating has signed up to the Mindful Employer charter to help support the mental and physical wellbeing of its staff.
The Mindful Employer initiative is part of the Devon Partnership NHS Trust, and recognises those employers who are working to create better mental health in the workplace. Research suggests one in six workers are currently dealing with a mental health problem, many of which have been exacerbated by the Coronavirus pandemic and the current cost of living crisis.
By signing the charter, Continal has signalled its determination to offer all its staff the best possible support, whether they need mental health, financial or legal advice.
Through the Mindful Employer initiative, Continal's team can access training courses on mental wellbeing and learning resilience, as well as tailored advice for managers on how they can best support their teams.
They can also attend the internationally recognised two-day Mental Health First Aid course, which will help teach them how to spot the signs and symptoms of mental ill-health in others and tackle the stigma that can exist around mental health issues.
Everyone at Continal will also have access to a 24-hour confidential helpline where they can seek help and advice about any difficulties they may be experiencing, and be given the contact details of organisations who may be able to help them.
To take this support a stage further, Continal has also begun working with a physical wellbeing coach, to help its team with any physical issues they may have, and to offer advice on nutrition and maintaining a healthy lifestyle.
Matthew Welch from Prestige Fitness, based in Perranporth, is already helping to support a member of staff who sustained a serious injury while playing football that required surgery and physical rehab, and is also working on a project to offer advice on how people can stay active while so many are still working from home.
He explained: "Physical exercise has many more benefits than strength. It has excellent effects on mental health as well, helping with self-confidence, sleep, diet and discipline. Physically it improves posture, body composition and protects the body from many issues that come with age and work style. So much work is desk based and any exercise regime will help counteract spending hours in a seated position, from shoulder complaints to back issues."
Andy Glasspool, technical sales director at Continal Underfloor Heating, said: "It's been a challenging few years and we believe it's never been more important that our staff know they can turn to us for help if they have a problem. As a large employer based in a rural community, we know it can be particularly difficult for our teams to find and access this kind of support.
"That's why we've signed up to the Mindful Employer charter and brought in a physical wellbeing coach, so that anyone who works at Continal can make the most of their support and advice in a completely safe and confidential way, whenever they may need it."
Comments
To leave a comment you need to create an account. |
All comments 0