Big carnival in a little village
Monday 1st August 2022 11:00 am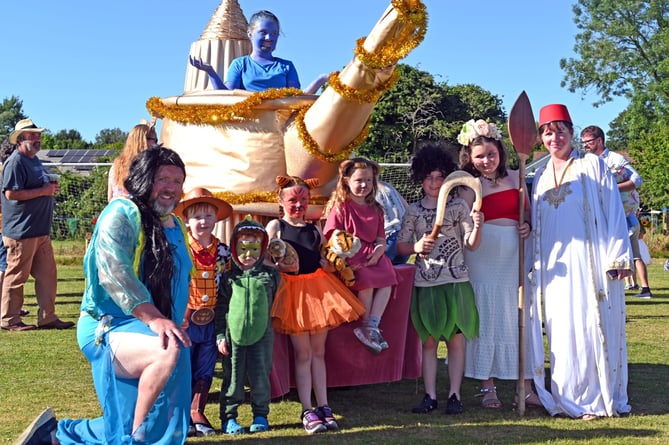 ABOVE: The St Tudy Fairy Queen attendants Philippa and Elsie Welch along with Fairy King Jake French RIGHT: Good together are the St Tudy Identical Twins Society BELOW: St Tudy Fairy Queen 2022 Maisie Cawte
Subscribe newsletter
Subscribe to our email and get updates right in your inbox.
It was a brilliant week of events thanks to everyone that joined for the 'ansum' breakfast on the Sunday, the team worked amazingly well together with the kitchen led by Bex Wilton, it was like a well oiled machine, a spokesperson added: "Cheers maid. We hope your all enjoyed your breakfast."
Wednesday was quiz night and what a night that was. The tent was full and once again Sue "The Quiztress" Dribble challenged the grey matter with a host of television questions. The 'Tudy Chips and Chilli' went down a storm and thanks were expressed to Jenny Keat for being chief chip prepper, and Selina for cooking up another stunning chilli.
Thursday was a fun night for the football club with all enjoying the bouncy castles.
Congratulations went to Maddison, Kenzi and Piper Keat for their winning entry in the creative community competition, their scarecrow "The Queen with rock you".
Then Friday's big match the Legends vs the Superstars. The park was packed and the boys put on a great show. The spokesperson added: "Well done to both teams for entertaining the masses, Lee's legends ran out winners and reclaimed the Carnival cup."
Chabaa was cooking up a storm and Moorlands Grill, well what amazing burgers.
Saturday was the big day, the return of the carnival. The spokespserson said: "To be honest we weren't sure how many would come and I don't think we would of imagined the turn out we got.
"The field was a sea of people all enjoying the day and having fun, as always Kittows hog roast was super popular, it was amazing to see our little village once again putting on a show for everyone to enjoy, you'll never be disappointed with a St Tudy event, we will give anyone a run for their money.
"Special shout outs to our Village Recognition award winners Karen and Les for all their hard work at the shop and within the community.
"Sue and John for their years of support to all the committees and events they've helped with and especially our carnival quizzes.
"We would like to thank all the committee members tireless work and their family who always come to our aid, all the Marshalls and helpers that join us at the drop of a hat you are amazing.
"We need to thank Bushen bars for their efforts over the week, if you need a bar then give them a call, top class every time. Adam and the Tricade for getting the party tent rocking on Saturday night, you guys were next level good.
"Huge thanks to the community shop for selling raffle tickets you all did an amazing job for us, so thank you.
"Finally we want to thank all the villagers for their patience and understanding with all the going ones, we do hope we didn't cause an issues or inconveniences if we did we whole heartily apologise."
They added: "We will be back with the BIG Carnival in the little village July 8, 2023."
Walkers, children under 16: 1st Peter Rabbit & Friends; 2nd Rapunzel Pippa; 3rd Oskie Swashbuckel, Pirate of Delphi.
2nd St Breward area first responder;
Group: 1st Aladdin and Jasmines wedding; 2nd Our planet our future; 3rd Bee kind;
General float: 1st Woodland spirit.
Group float: 1st Haywood Ho Down; 2nd Woodland spirit .
Fairy Royalty: 1st Delabole.
Fairy group: 1st Delabole.
Vintage/classic vehicle: 1st Morris Minor; 2nd Lulu.
Tractor: 1st Lady Louise; 2nd International B414; 3rd E339 WAG.
Howard Fraiser Memorial Shield: Twins.
Caroline Pearce Cup: Peter Rabbit & Friends.
Best Tableau: Woodland Spirit.
Best non-Tableau: Aladdin and Jasmines wedding.
Grand Champion, best in carnival: Aladdin and Jasmines wedding.
Comments
To leave a comment you need to create an account. |
All comments 0